It's a thrilling experience– spinning the reels and seeing the vibrant graphics and fun symbols turn, hoping to end in a winning combination. Slot machines have been well-loved for decades due to their light, hypnotizing visuals, and alluring soundtracks in offline and online casinos.
Playing online slot machines depends mostly on lady luck, but there are some tips and methods you can use to increase your chances of winning. In this article, we will discuss some tips and tricks on how to win at slots.
Understand The Basic Terminologies of Playing an Online Slot Machine
Before delving into the tips to win at slots, it is always wise to understand the basic terminologies in online slot machines. There are some words that especially beginners need to know to maximize their online slot gaming experience. Here are the top four online slot machine terminologies every player must know:
Random Number Generator (RNG)
Random Number Generator (RNG) is a term widely seen in the online casino industry, especially slot machines. RNG is what makes slot games fair and trustworthy! Reputable slot machines use an RNG to determine each spin's outcome. 
As the name suggests, RNG ensures that the outcome of every spin is random; previous spins won't affect the following spins. 
Every player must pay attention to a slot machine's RTP before playing! RTPs are what makes slot games lucrative or not. In simple words, RTP is a percentage that represents the average return players can expect over time. The higher the RTP, the better.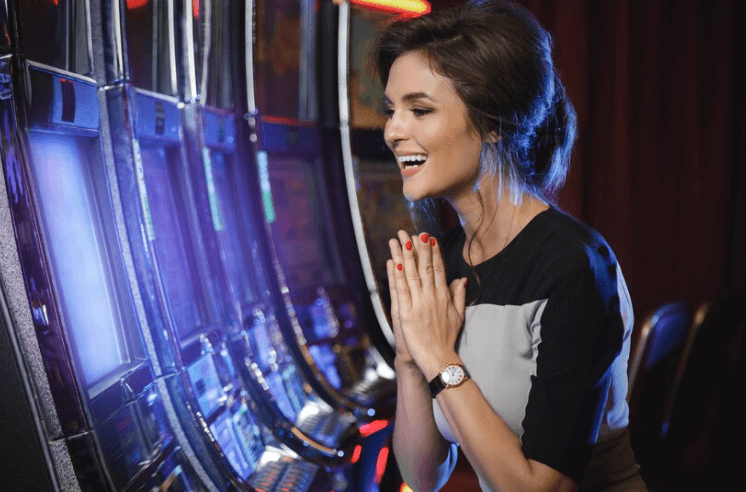 For example, a slot machine with a 95% RTP means players can receive 95 dollars back for every 100 dollars spent. In general, the average RTP for slots is around 96%.
There is also such a thing as "paylines" in a slot machine. Paylines are winning combinations that players must land to receive a payout. The amount of paylines also varies depending on the slot machine game.
Symbols are one of the most important aspects of slot machine games! Each slot machine has its own unique collection of symbols. For example, in a fruit machine, the symbols may be grapes, cherries, bananas, etc. 
Each symbol also has different payouts and values. They are typically divided into lower-paying, higher-paying, wild, and scatter symbols. Players should watch for wild and scatter symbols, as they can offer you higher payouts and lead you to lucrative slot features!
Best Tips on How to Win at Slots
Choose The Right Slot Machine
The first step to win at slots is choosing the suitable slot machine. Slot machine varies in feature like RTP, volatility, paylines, etc. 
The easiest way to choose the right slot machine is by looking at the RTP and volatility level. Look for slots with higher RTP, as they generally offer better odds. Figure out the slot's volatility level too. 
Low volatility slots provide wins that are frequent but are smaller, while high volatility slots provide wins that are less frequent but have a larger payout.
Get to Know The Slot's Paytable
Before you start spinning the reels, take some time to familiarize yourself with the slot machine paytable. A paytable will provide essential information about the game, like the symbol's values, the slot's bonus features, and how to activate them. 
Knowing the slot's paytable can help you win at slots as you can make better choices during the game.
Always implement responsible gaming when playing any online casino games. To truly win at slots, you must be able to control your spending. 
What should you do? Firstly, decide how much money you can spend and lose at the absolute most. If you've reached the limit when gaming, you must stop and prevent yourself from chasing your losses.
Secondly, make a realistic and attainable win goal. If you've won some cash, think about cashing out rather than getting too much into the game and continue playing. You wouldn't want to risk losing the money you've won by playing too much. 
Lastly, limit how many slot machines you can play per playtime. This will help you avoid spending too much money. Remember that the money you use to play should never be money you cannot afford to lose.
Take Advantage of Online Casino Bonuses
Online casinos often offer bonuses that can boost your gameplay. This does not technically help you win at slots, but it can help you save money and maybe get some free spins. There are various kinds of online casino bonuses like welcome bonuses, deposit bonuses, VIP programs, etc.
Enjoy The Game, Don't Take it Too Seriously
Last but not least, enjoy the game. It is not recommended to gamble on slot machines to earn a living. Use slot machines as a way to unwind and have the possibility to earn some bucks.
Never get sad or frustrated if you are faced with a losing streak. Take a break, analyze your play, and play some other time with maybe a different slot machine.
Conclusion
Playing online slots requires more luck than skills, but it doesn't mean you can't do things to help make your slot machine gaming experience smoother. To win at slots, you can use the tips we've shared above and make your gameplay more enjoyable and stress-free.
In summary, you must choose the right slot machine, understand the paytable, set a bankroll, stick to your bankroll, use online casino bonuses, and make having fun your main priority.
Frequently Asked Questions (FAQ)
1. Can I consistently win at slots?
No, slots are primarily games of chance and luck. There is no fixed method for constant wins, as the outcomes are determined by random number generators (RNGs). RNGs help each spin to be random and fair.
2. What is the best trick to win at slots?
Always choose the right slot machine with high RTP and volatility according to your liking. Understand the paytable, manage and stay true to your bankroll, take advantage of online casino bonuses, and have fun.
3. How can I choose the right slot machine to improve my chances of winning?
Consider factors like the slot machine's RTP, volatility, bonus features, bet sizes, and your personal preferences regarding themes and entertainment value.